The Wolf Who Played with Fire ~
(Cry Wolf #2)
Sarah Mäkelä
Genre:
New Adult Paranormal Romance 18+
Publication Date:
June 20, 2014
Publisher:
Kissa Press, LLC
Cover Designer:
Kim Killion
Event Organized by:
Literati Author Services, Inc.
Synopsis
Some magic can't be unspun…
Meddling in magic… If Mia Brooks could turn back time, it would be to when she used her fledgling magic to craft a potion for an injured werewolf. It nearly killed the Pack Alpha, and now the lives of her witch mentor, Jessa, and her soldier boyfriend, Ethan Parker, have been changed forever. Jessa is in hospital after a vicious werewolf attack. And, Ethan, having being bitten, is becoming a werewolf himself.


A wolf at the door… Mia can't turn back time, but she can try to make things right with the two people she cares about most. She's keeping Jessa's shop, Eternally Magick, open, and she's there for Ethan as his inner wolf grows. But, by the next full moon, his transformation will be complete. Can she really be the mate of a half-man-half-wolf, living within the law of the Pack?


Under his spell… Struggling to contain his new lupine senses, Ethan goes missing on active duty. When Mia realizes her werewolf lover has been abducted, she knows must harness every magic power she possesses to get him safely back…
Excerpt
Water slid over my body, and I lifted my face to the warm spray. Delicious soreness ached in my muscles as I reached for the shampoo. Crashing at Ethan's house was dangerous, but the romantic rendezvous we'd shared had taken me to new heights of pleasure.
However, not all good things last forever.
My brother, Nolan, lived with Ethan, keeping an eye on the place while Ethan was deployed with the Army. Neither of us knew exactly when Nolan would arrive home from spending the weekend with his girlfriend, but he had work in a few hours. The chances of him swinging by were high. That meant I needed to leave as soon as possible.
Part of me hoped I could slink away before Ethan woke up, but it was only a matter of time before he stirred. The fact he hadn't yet indicated to me just how 'active' we'd been last night, since not only was Ethan a trained soldier, but now he was becoming more and more of a werewolf. That last part scared me.
I leaned my forehead against the white tiled wall. Regret squeezed my heart like a vise. It would be so easy to blame Jessa, my friend and mentor, for pushing me into the werewolf debacle, and even easier to torment myself for having used wolf's bane. If I'd gone with the common method of crafting the salve instead of making my own potent blend, then this would not have happened.
Those thoughts led to madness. I balled my hands into fists. Neither Jessa nor I could've known what was going on.
The supernatural world was one of magic and potions. Witches were real since I was one. Werewolves, on the other hand, were beasts of legend, not fact. That shocking revelation brought fear and pain crashing through my door and harmed those I cared about.
Both Ethan's and Jessa's lives were changed forever, because I couldn't protect either of them from the werewolf's attacks. The ramifications of my failure were incomprehensible, especially for Ethan.
Releasing a sigh, I focused on the bar of soap and reached within myself for my magic. Jessa made telekinesis appear so effortless. If I'd learned one thing recently, it was that I kept myself locked away, hoping others wouldn't burn me at the stake. Being powerless wouldn't help those I cared about, or me, when the time came to protect them.
Fear and atrophy shriveled my magical muscles. While I still wasn't convinced about using my power, especially not as openly as Jessa did, I refused to wait for the next disaster to hit before I acted. Something deep inside me knew we weren't out of the woods yet.
No matter how hard I concentrated, the soap remained rooted in place. Ugh.
How could I measure up as a witch if I couldn't even accomplish the basics? If my grandmother were here, life would be much easier. Instead, she rested in her grave.
The bathroom door creaked open and my heart leapt into my throat. Panic pushed me to remain small and silent, even though the spraying warm water gave away my presence. If Nolan was home before work, I would be screwed.
My brain scrambled for excuses about why I was here, much less why I was taking a shower.
The mugging wouldn't work anymore. Things had mostly gone back to normal. I spent more time at home whipping up potions for Jessa's new age shop, Eternally Magick.
With Jessa in the hospital, she couldn't run the shop, and I needed to help. What family she had was several states away, and they couldn't or wouldn't take time from their lives to assist her.
Besides, Ethan and I didn't need to be as careful about Nolan coming around to my place. He rarely swung by these days, and when he did, he usually called first.
"Mia? Everything okay in there?" Ethan nudged back the shower curtain, tension tight in his naked shoulders.
Air whooshed from my lungs in a rush and my shoulders slumped forward in relief. "You scared me."
"Sorry, sweetheart. I felt a lot of energy buzzing in here. Just wanted to make sure you're okay." He let go of the curtain, and it fell back into place. The slightest twinge of sadness nibbled at me, but this was for the best. If he got in the shower with me, I might never leave.
The Cry Wolf Series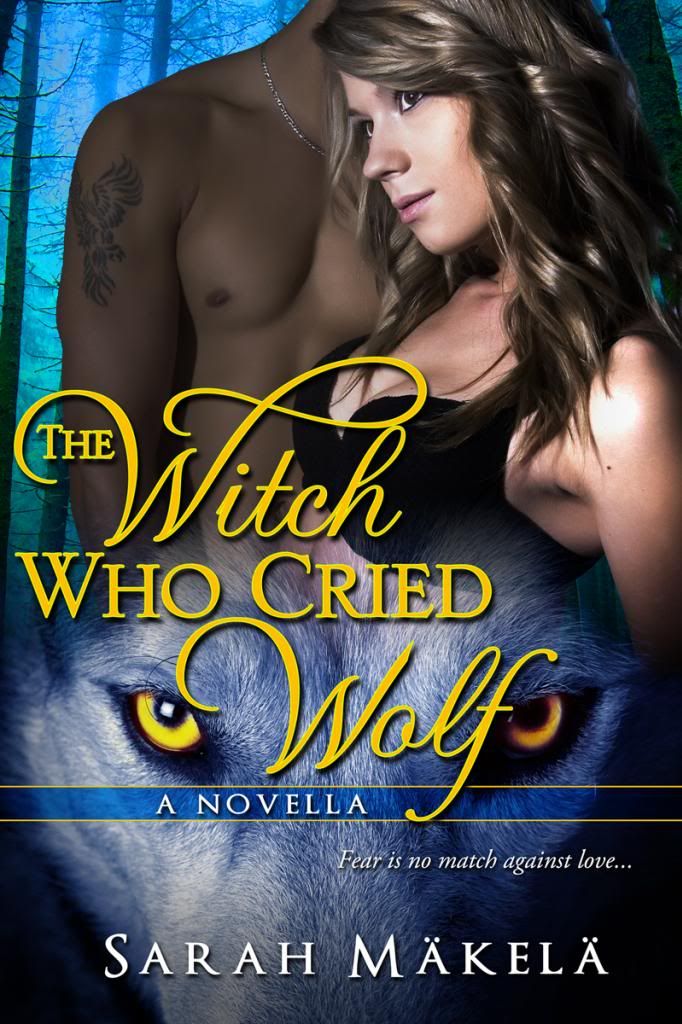 Title: The Witch Who Cried Wolf (Cry Wolf #1) Author: Sarah Mäkelä
Genre: New Adult Paranormal Romance
Publish Date: December 2, 2013
Publisher: Kissa Press LLC
Event organized by: Literati Author Services, Inc.
Be careful what you wish for…
A potion gone wrong: Mia Brooks is a reluctant witch, with powers that she tries to hold in check. But when her magic gets mixed up, supernatural forces are unleashed and suddenly she's being pursued by werewolves—that she didn't even realize existed…
Hidden emotions: Ethan Parker, Mia's brother's best friend, is home from deployment for the holidays. Mia's not only hiding from werewolves, she's trying to keep her feelings for Ethan secret; it would be a disaster if he knew she's been nursing a long-time crush…
The power of love: Things take a terrifying turn when Mia and Ethan are attacked by a werewolf. Ethan is amazed when Mia reveals her paranormal prowess as she tries to shield them from danger. But can she really protect them from the darkness that lurks? And how can he tell her that, for ages, he's been denying what he really wants? Mia...
Purchase Links
Title: Cold Moon Rising (Cry Wolf, #1.5)
Author: Sarah Mäkelä
Genre: New Adult Paranormal Romance
Publish Date: Feburary 17, 2014
Publisher: Kissa Press LLC
Passions flare when the cold moon rises…
Kelly: a normal college girl, who knows what she wants—to survive her final exams, and find someone to share her life with. Studying with Jacob is becoming too hot to handle; she's falling for him, but he's going too fast…
Jacob: a not-so-typical frat guy, who hides a secret—he's a werewolf. Whenever the moon is high, he's driven to shed his human form and satisfy his powerful desires. He craves Kelly, but she's pushing him away…
Fallout: Jacob can smell Kelly's arousal, but she insists she doesn't want sex. A wolf can only take so much before his natural instincts win out. When the tension between them explodes, Jacob has no choice but to walk…
Kidnapped! Kelly is abducted by evil scientists who've mistaken her for a female werecat and, despite their differences, Jacob has to try and find her. But it's a race against time and the lunar tides. The scientists have taken Kelly to their lab and turned her into a shapeshifter for real. The full moon is rising, and soon neither Kelly nor Jacob will be able to control their inner beasts. Who knows what the consequences will be when they are consumed by unquenchable animal lust…
Purchase Links
About the Author
Sarah Mäkelä loves her fiction dark, magical, and passionate. She is a paranormal romance author, but she's written all over the romance spectrum with cyberpunk, sci-fi, fantasy, urban fantasy… even a sweet contemporary romance!
A life-long paranormal fan, she still sleeps with a night light. In her spare time, she reads sexy books, watches scary movies and Ghost Adventures, and plays computer games with her husband. When she gets the chance, she loves traveling the world too.