Welcome to the
Playing Pretend
release event, organized by
Grapevine Book Tours
! Meet the author, Juliana Haygert, read a teaser, and enter to win a gift card or eBook copy. Don't forget to visit the
event page
for a list of participating blogs with excerpts and more teasers!
As the Governor's daughter, Charlotte McClain is an expert in playing pretend. High society, the men her mother shoves in her direction and a Pre-Law major are all a part of her perfect pretense. But when she pretends to be a nobody during Spring Break, she meets someone who rocks her world.
Mason Rowell knows heartbreak and Spring Break don't mesh well, so he allows the mysterious Charlotte to seduce him. What should have been a fling, results in something deeper. After Spring Break has long since passed, he moves to Washington to pursue his graduate degree, but what he never expected to find living among the rich and pompous, was the girl who gave him the strength to change and the desire to start anew.
When the guy Charlotte can't forget goes from a sensual memory to temptation in the flesh, her facade is put to the test. If she surrenders to his charms, she risks ruining her mother's perfect career and master plan. Playing pretend is what Charlotte does best, but how long can she pretend she doesn't love the man who made her proud of her true self?
**A light, sexy NA Contemporary Romance (17+)**
Available on:
Grab your copy today! From now until March 9th, Playing Pretend is only 99 cents!
---

•
Welcome, Juliana! Your newest NA Contemporary Romance, Playing Pretend, has just released! How are you feeling?
Yay! I'm excited and very nervous!
And scared. I'm scared because my readers might think they are in for a book in the same style of Breaking the Reins and this isn't true. Playing Pretend is VERY different from Breaking the Reins. Playing Pretend is light and sweet and cute, while Breaking the Reins is deep and emotional and heartbreaking.
Even so, I hope readers enjoy Playing Pretend :)


•
Summarize Playing Pretend in one sentence.
In a game of playing pretend, girl falls for the wrong boy during spring break.


•
Describe the romance—what can the readers expect?
Playing Pretend is a sweet, smexy book. With lots of sexual tension, and a tiny bit graphic. Just a tiny bit ;)


•
What inspired the idea behind the book?
Well, to be honest, I saw a publisher asking for a sweet spring romance, short novella length a couple of years ago. It didn't specify anything about spring break, but that's what came in my mind so I wrote it at once. However, I didn't send it out. I found it too short, and the end felt rushed, so I decided to hold on to it so some day when I had more time (I was working on another book at the time) I would rework and extend it.
Fast forward to mid 2013, an urge to go back to that story hit me hard, so I picked it up again.


•
What was the most challenging part of writing it?
To me writing is never the problem. What I actually have to force myself to do is to revise. I know it's a VERY IMPORTANT and necessary evil, so I do it, but ugh, if I could, I would skip it.


•
What did you most enjoy while writing the book?
The sweet moments between Charlotte and Mason :)


•
Your favorite line (or scene) from Playing Pretend:
"I cupped her cheek and kissed her. I was upset, yes, but nothing could keep me away from her during these last few hours. I wanted her. I needed her. And I showed her just how much when I deepened the kiss, threatening to break unspoken social rules of how to behave in public."


•
Are you currently writing another book?
•
Besides writing, what other artistic talents do you have?
None.
Actually, dancing. I was a ballerina for a long time and won a few competitions here and there – until I ruptured two tendons on my foot and can't use pointe shoes anymore :(


•
Best piece of advice you've received and give to aspiring authors?
Only one? Can I give a few? Lol
Know all the rules very well before breaking them. Never give up and never stop learning. Oh, and be humble, always!
Flash Q&A ...
•
Current Obsession:
Kpop. I love me some South Korean singers/dancers :)
•
Last thing you Googled:
stock photos for Breaking Fences cover.
•
You're stressed. What's the first thing you do or reach for?
I reach for anything that plays music—my iphone, ipad, ipod, laptop, etc–turn it on and let my mind wander through things I like or through ideas I'm excited about.
•
You write best with
__
MUSIC AND COFFEE
__
while
__
MY KIDS IS AT SCHOOL
__
and in your
__
HOME OFFICE, WEARING YOGA PANTS
__
.
•
Inspiration hits, but you're not home or near your computer. You _____.
I reach into my purse and grab my notepad and pen.
•
Best writing resource:
Blogs—I follow a bunch on bloglovin—fellow authors, and a closed NA group on facebook ;)
•
Guilty pleasure:
Hm, eating too much chocolate? lol
•
Automatic buy-list author:
Richelle Mead, Jennifer L. Armentrout, Sarra Cannon, Alyssa Rose Ivy …
•
Character you wish was real so you could meet:
Only one? Damn. My own Micah from The Everlast Trilogy, then ;)
---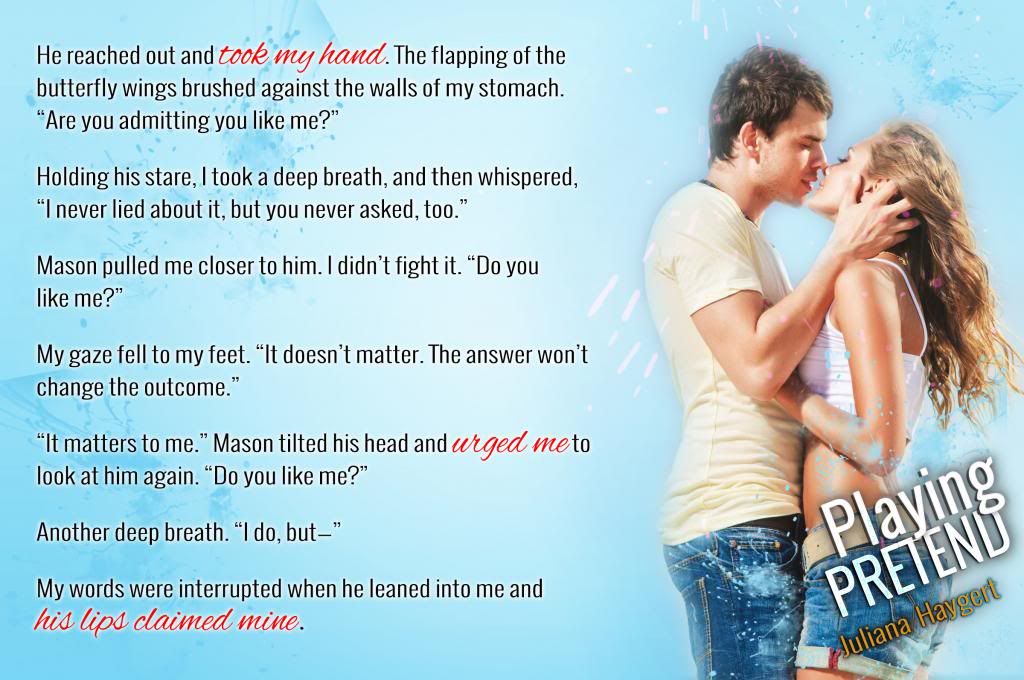 ---
---

While Juliana Haygert dreams of being Wonder Woman, Buffy, or a blood elf shadow priest, she settles for the less exciting—but equally gratifying—life of a wife, mother, and author. Thousands of miles away from her former home in Brazil, she now resides in Connecticut and spends her days writing about kick-ass heroines and the heroes who drive them crazy.
---

• One (1) $10 Amazon or B&N gift card {INT}
• Two (2) eBook copies of Playing Pretend by Juliana Haygert {INT}
Event organized by