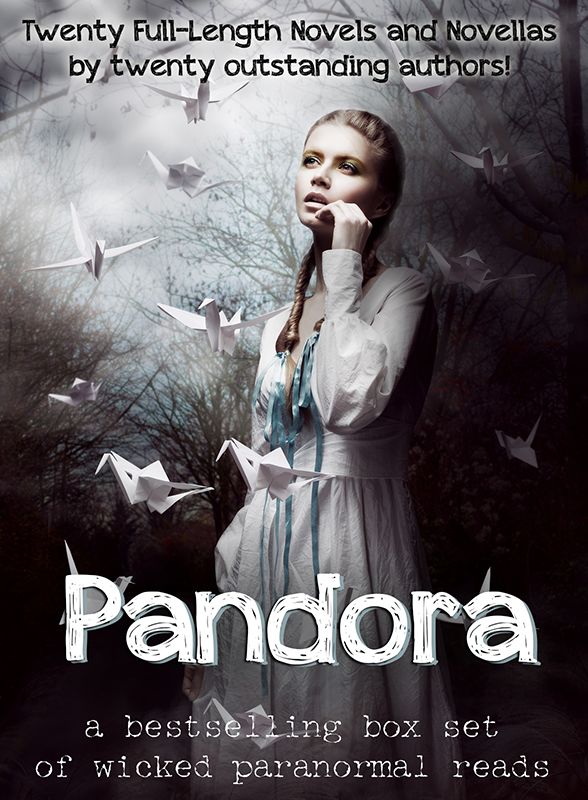 Title:
Pandora Box Set
Author:
Angela Fristoe, Apryl Baker, Carole Lanham, Christi Goddard, Conner Kressley, DelSheree Gladden, Heather Kenealy, Kelley Anne Blount, Laura Howard, Louise Caiola, Noree Cosper, Peter Dawes, Rachel Walter, Rainy Kaye, Rebecca Hamilton, Riley J Ford, Samantha LaFantasie, Steven Katriel, Susan Stec, Thomas Sullivan
Genre:
Paranormal // Urban Fantasy // Horror
Publish Date:
August 5, 2014
Publisher: Indie Published
Event organized by
:
Literati Author Services, Inc.










~ Book Synopsis ~

**COMPLETE BOOKS! NO CLIFFHANGERS!**


PANDORA, a best-selling box set of wicked paranormal reads, is brought to you by twenty exciting, best-selling, and award-winning authors! Ready for a touch of magic? Whether you love paranormal in the form of romance, suspense, mystery, horror, or fantasy, this box set will have something to entice your preternatural sensibilities. Supernaturally thrilling and engaging, this box set has it all: ghosts, vampires, mind-readers, shape-shifters, demons, faeries, werewolves, and more. For a limited time, you can enjoy books from today's New York Times, USA Today, Amazon and Barnes & Noble bestselling authors and many more. We have everything from titles that are slated for the big screen to stories from Pulitzer Prize and Bram Stoker Award Nominees! When purchased separately, these books cost over $50! But they are your's today for less than $1. Professionally formatted, no cliffhangers, and no short stories. Every selection in this rare, limited edition paranormal box set are full-length novels and novellas! A few are "First in Series," but we carefully selected only those which can still be enjoyed as a standalone!
Riley J Ford, New York Times and USA Today Bestselling Author: INTO YOU What if you could know exactly what your friends are thinking? High school student Winter Reynolds can, but there's a catch... She can only read people's thoughts when she's kissing them.
Rebecca Hamilton, Amazon Best-Selling and Film-Optioned Novelist: HER SWEETEST DOWNFALL Ophelia's initiation into the supernatural council won't be complete until she kills the man she loves.
Apryl Baker, Amazon Best-Selling and Film-Optioned Novelist: THE AWAKENING Snap...crackle...pop. The sounds of bones breaking and shifting and of muscles tearing haunt Alexandria Reed. Aided by her new friends, who have some dark secrets themselves, can she and Jason survive long enough to figure out the secret behind the secret?
Carole Lanham, Amazon Best-Selling Author and Bram Stoker Award Nominee: CLEOPATRA'S NEEDLE "There are monsters in this world, I've learned, and sometimes I have fallen victim to them and sometimes I have been one." A story of Welsh witchcraft, love, and murder.
Thomas Sullivan, Pulitzer Prize Nominee: THE WATER WOLF A global quest by a cynical adventurer searching for links in a colossal subterranean network he has stumbled upon lead him from the ancient fortress at Cuzco, Peru, to the Pyramids of Giza to a dangerous churchyard in Connemara, Ireland, where he falls in love with a woman of more than mortal roots and encounters the strange magic of a small village.

Rainy Kaye, Amazon Best-Selling Author: SUMMONED A dark twist on genie folklore, SUMMONED follows a reluctant criminal as he unravels the mystery of the paranormal bond controlling him.
Laura Howard, Amazon Best-Selling Author: THE FORGOTTEN ONES Truths have a way of revealing themselves. Secrets will eventually surface. And Allison must learn to set aside her plan and work with her father if there is even a small chance it could restore her mother's sanity.
Noree Cosper, B.R.A.G. Medallion Honoree: A PRESCRIPTION FOR DELIRIUM Demons, werewolves, possessed bikers, madness spreading like a virus, and a revenge that has waited for over five-hundred years. What more could Gabby look for in a vacation spot?
Louise Caiola, Amazon Best-Selling Author: WHAT TRULY KNOWS She was born with the Magical Knowing – a gift, some said. A curse, said others. But for Truly, it was the very thing meant to save her life. If it didn't kill her first.
Kelley Anne Blount, Amazon Best-Selling Author: SHADE Coming Soon!
Susan Stec, Amazon Best-Selling Author: DEAD GIRLS NEVER SHUT UP Toni's grandmother is a psychopath. Her sister is a ghost. Her boyfriend is possessed. And she has no idea who she is.
Christi Goddard, Amazon Best-Selling Author: FOUR IN THE MORNING When a smart-ass magical creature invades Kathleen's life, a boy she hates turns up dead and her mother goes missing.
Steven Katriel, Amazon Best-Selling Author: THE PORTRAIT OF ALATIEL SALAZAR When Gabriel Holland's beloved Helena vanishes from his life, he journeys to the home of disgraced artist Cristian Salazar, the man he holds responsible for her disappearance and the death of several friends.
Heather Kenealy, winner of MTV's "Stan Lee presents the Seekers" contest and Cinescape's Short Story Contest: THE TRAITORS' TRILOGY Betrayal comes with a price. For these betrayers, it also comes with an opportunity.
Peter Dawes, Blogger Book Fair Reader's Choice Award winner: EYES OF THE SEER It all started with a murder, but what laid in wait would turn a man into a monster.
DelSheree Gladden, Amazon Best-Selling Author: INVISIBLE Being invisible won't hide Mason for long. with...
Angela Fristoe: LIE TO ME As a Truth Teller, Phoebe knows a lie when she hears it. Knowing what to do when her best friend lies is the problem, because in lies, intention is everything.
Conner Kressley: THE BREAKER'S CODE Cresta's the kind of girl who thinks everything is the end of the world. Turns out, she might be right.
Samantha LaFantasie: MADE TO FORGET After waking up in a hospital with no memory, Elsabetha quickly learns those who claim to be her friend are anything but.
Rachel Walter: TRUE CONNECTION With the help of supernatural friends and protectors, Jazzy thinks she's safe until what remains of her family is put in danger. Does she have what it takes to save her family, life, soul, and soul mate, or will all be lost?
Do you dare to open Pandora's Box?
Purchase Links
Featured Authors
Giveaway $50 Gift Card
Title: Lie to Me (A Touched Trilogy, #1)
Author: Angela Fristoe
Genre: Paranormal/Urban Fantasy
Publish Date: December 2012
Publisher: Indie Published


~ Book Synopsis ~
Phoebe Matlin has always felt broken. While one of her sisters sees the future, and the other can heal people, Phoebe has come to accept that her truth telling gift just doesn't work. Then her best friend, Tonya, lies to her and Phoebe's gift flares to life. With Tonya pissed at her, being a Truth Teller suddenly doesn't seem like such a great gift. Although, it is nice knowing she was the reason her crush, Nathan, dumped his stalker girlfriend. But in lies, intention is everything and Tonya's lies are a cry for help. The fear that her friend is covering darker and more serious truths is something Phoebe can't ignore. But knowing when someone is lying is the easy part. Now she has to decide what to do about it. And with Nathan and his doubts about her ability confusing things, finding a way to help Tonya isn't as easy as Phoebe thought it would be.


Excerpt

LIE TO ME
by Angela Fristoe


Vivian was such a drama queen. What did Nathan ever see in her? I rolled my eyes, then slid the note over to Tonya. Her soaring eyebrows made me wish I hadn't. No way would she believe me about the first note now. My best chance against her questioning was a quick escape after class, before she started the interrogation. Luck, however, deserted me.
The bell rang and Tonya grabbed my bag, holding it hostage behind her as she stood with the table between us. That was the problem with having a best friend; they always knew what you were going to do. She was almost as bad, or good depending on your point of view, as Chloe sometimes, though I'd never say that to Chloe. Doing that would just open Chloe's vision floodgates and I'd be constantly bombarded with every detail of every soon to be minute of my life.
I refused to struggle for my bag. Tonya would only take it as confirmation that I was hiding something from her. Instead, I screwed my face up in confusion and hoped she'd buy it.
"What's wrong?" I sank back further in my chair, tipping it up on its back legs again as Mrs. Schaeffer went out the door, following the rest of the students. Owen and Bianca stopped behind Tonya, waiting, Owen looking mildly disinterested, while Bianca was completely confused.
"What are you hiding?" Tonya asked, her head tilting to the side.
"Noth-"
"Cut the crap, Phoebs. Vivian is pissed and you've been looking guilty all class, well at least the part where you were awake." Her eyes narrowed, and she crossed her arms over her chest, ignoring my bag as it swung around and bumped her hip. There was no way to get out of this, but if I told her now it'd be all over campus within an hour.
"Fine, but not at school. I'll tell you when you come over tomorrow."
"I can't tomorrow." Her face shuttered and she turned around, tossing my bag to me in a quick motion. I caught it as it slammed into my chest.
"Why? I thought we were gonna go Christmas shopping? You already ditched me last weekend." There were only six days left to shop and I needed to get, well, everything, and Tonya was one of those people that managed to find the best things the instant she walked into a store.
She shrugged and twisted a strand of her straightened hair. "I've gotta go see my mom."
Liar. It whispered through me, my stomach churning to the point I thought I'd puke. There was a moment when my brain tried to make sense of what I was hearing, what I was feeling, then it came again. Liar.
"Liar." The word slipped out, unrestrained in its harshness, and almost instantly, my stomach settled. Until I saw the expression on Tonya's face.
"What did you call me?" Her back stiffened and her head reared back. Shit. Owen and Bianca went bug-eyed behind her. Tonya's lips pursed and her eyes narrowed, darkening from brown to black.
"I...I..." My voice faded, unsure if I should call her on it again, or try and fib my way out of it. This wasn't the first time I'd called her a liar and she'd always laughed it off before.
Her reaction and the flush coloring the soft brown of her cheeks told me I'd actually caught her. "Screw you," she snapped as I stood there with my mouth moving like a gasping fish.
"I don't need to tell you every move I make, and I don't need my best friend calling me a liar." She spun, shoved Owen out of her way, and took off out of the room, slamming the door behind her.
My bag thudded to the floor. Owen and Bianca stared at me, the question in their faces a reflection I was sure of my own. What the hell had just happened?
Born in Northern Canada, Angela grew up on the Canadian prairies amid dreams of becoming the next Dian Fossey or a world famous flight attendant. Those, however, were never meant to be. Instead, she moved to the United States where she divides her time between her family, writing, and her day job as an instructional coach.
Connect with the Author
Title: Cleopatra's Needle
Author: Carole Lanham
Genre: Paranormal/Urban Fantasy
Publish Date: July 29, 2014
Publisher: Immortal Ink Publishing


~ Book Synopsis ~
THERE ARE MONSTERS IN THIS WORLD, I'VE LEARNED, AND SOMETIMES I HAVE FALLEN PREY TO THEM AND SOMETIMES I HAVE BEEN ONE… When Lilabet last saw Iago, they were ten years old. Whisked off to America by his father in a desperate attempt to escape the dark superstitions of Wales, Iago's letters have been the single thing to connect them. Now, fourteen years have passed and Iago has asked Lilabet to be his bride. Eager to begin a modern life in an exciting new land with the man she has loved for all her days, Lilabet is about to discover that black magic may find a home on any shore. Three red-haired witches have been playing a deadly game of revenge with Iago and if she wants to have a life with him, Lilabet will first have to fight the dark forces that have claimed her young husband for their own. CLEOPATRA'S NEEDLE A story of Welsh witchcraft, love, and murder


Excerpt
CLEOPATRA'S NEEDLE
by Carole Lanham


13 June 1897 It's dangerous for me to keep going to him but Iago says the only time his head is clear is when we're together. I've explained to him what Bethan is doing; calling him to her, making him hurt himself. I've told him to listen for my voice instead whenever he hears Bethan intruding in his thoughts. If we can work together to overcome what she's doing, I think he'll be able to leave.
1 July 1897 Today Iago came running like his hair was on fire and all because of me. Bethan made me call him.
'Tell him to bang his head against that wall,' she instructed.
His beautiful cheeks are still scratched from yesterday when she commanded he tear off his face. I didn't want to see him bang his head on the wall but I kept thinking about what she did to Ceiro that last day and I didn't want to make her any angrier than she already was. I spoke inside his sweet trusting head and he hammered his skull until blood poured in his eyes.
'That's wonderful, Meriel. What a good little witch you've turned out to be. He'll do anything for you, won't he?'
Poor Iago. He was still hitting his head on the bricks.
'I've got a better idea,' Bethan said. 'Why don't you ask him to show Gwendraith and me what you've been doing to him every night?'
'Stop it!' I said, fed up to my core. 'This has gone far enough. We need to let him go.'
Bethan grabbed him by the hair to stop his thrashing. 'Show me what Meriel does to you when you're alone, Boy' she said.
When I tried to block her voice, Gwendraith put my head in a bucket and held me under water. By the time she let me up, he was kissing Bethan. She made me watch this for several moments before shoving him away. Her smile was covered with his blood.
'I want you to punch my sister in the head as hard you can now, Boy.'
He didn't hesitate. The first blow struck me across the jaw. The second, crunched my ear. Between the pounding of his fists, Bethan pounded me too.
'How dare you take him for yourself!' she said. 'He belongs to all of us!' She gave him the ax. 'Kill her.'
'No Bethan!' Gweny said.
I looked at my sister who I loved. I'd followed her blindly, I loved her so. I waited for her to put an end to all of this. Iago lifted the ax and she folded her arms. He swung. Luckily, he lost his balance and his aim was bad. I saw the tops of the fingers on my left hand come off. They scattered across the floor between us and there was a lot of blood, but I didn't feel it. Iago staggered to his feet and we all looked at Bethan, expectantly. Bethan kicked the tip of my little finger across the room.
'Lock her in the barn, Gwendraith.'


About the Author
Carole is the author of the book The Whisper Jar, 24 short stories, and one novella. She lives in the St. Louis area with one mighty fine husband, two wonderful kids, and a huge collection of aprons.
Connect with the Author